Revenue and Profit Leaks Analysis
How much is NOT knowing COSTING you and your Practice?
In business, there is a cost for everything; there is even a cost for doing nothing.  Do you know what yours is?
Your Practice is a business, so business principles should apply.  You have heard the experts and pundits repeatedly say that you must "know your numbers!"  At Dental Systems Optimization (DSO), we understand your blind spots and challenges.  As Advisors, Coaches, and Consultants, we emphasize that "knowing your numbers" is not enough; one must take Action!  Not just any action but Action built on the right numbers.  That's what we do; help transform your practice data into actionable strategies that can be monitored, tracked, and modified with frequent feedback.
To begin, you must first have the key to unlock all this potential.
DSO can help you find this key…
Practice Management Systems (PMS) are replete with list upon lists of reports.  Adding to this are monthly and quarterly financial reports provided by the accountant, payroll service, and bank.   We know you are overwhelmed with other tasks and responsibilities.  With so much information available, where does one start?  OmniStar has your solution for Analysis Paralysis!
We do analytics right…
Using specialized software and artificial intelligence (AI), we generate business and financial analytics along with Key Performance Indicators (KPI's) not readily available in most PMS.  Our AI utilizes your database to create reports and graphs, even if these features are not available through your PMS.  Data mining with AI enables us to discover your Revenue Opportunities, along with Profit Leaks.  With this information, we can formulate actionable strategies to improve profitability and plug profit leaks.  After completing our initial analytics, we typically uncover several Blind spots of lost revenue and profit leaks, both a surprise and benefit to the practice owner.
Our Process…
Our Team, in a few simple steps, installs the software on a network workstation.  Access to your server is not required.  Since no confidential patient information is accessed, HIPPA is not a concern.   Your initial data set, once uploaded to our cloud, is curated for accuracy before being analyzed.  The old axiom, "garbage in, garbage out," holds here too, which is why this step is so critical.  It's one of the unique differences contained within our Analytics Platform.  The more accurate and "cleaner" your data set, the more precise your analytics will be.
Your results and analytics…
Understanding that reporting data and results can be confusing, our software generates both graphical and tabular output.  Summary Dashboards show "snapshots" of key performance indicators (KPI's), including dentist and hygienist's production and collections, recare status, case acceptance, hygienist's support along with accounts receivables and aging.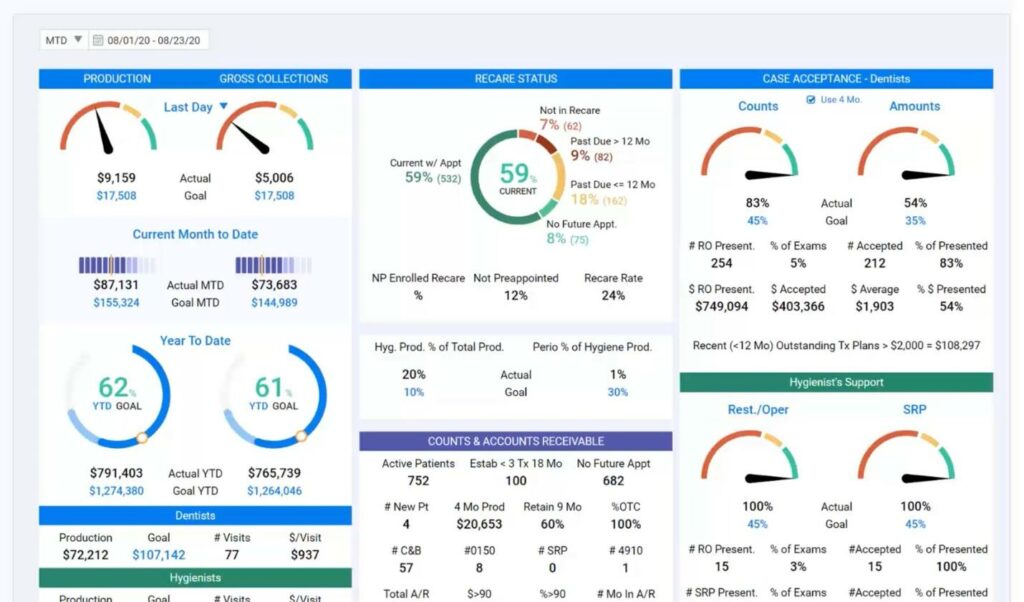 You can quickly analyze year to year comparisons and yearly rolling averages and spot trends from the graphical charts contained in the reports.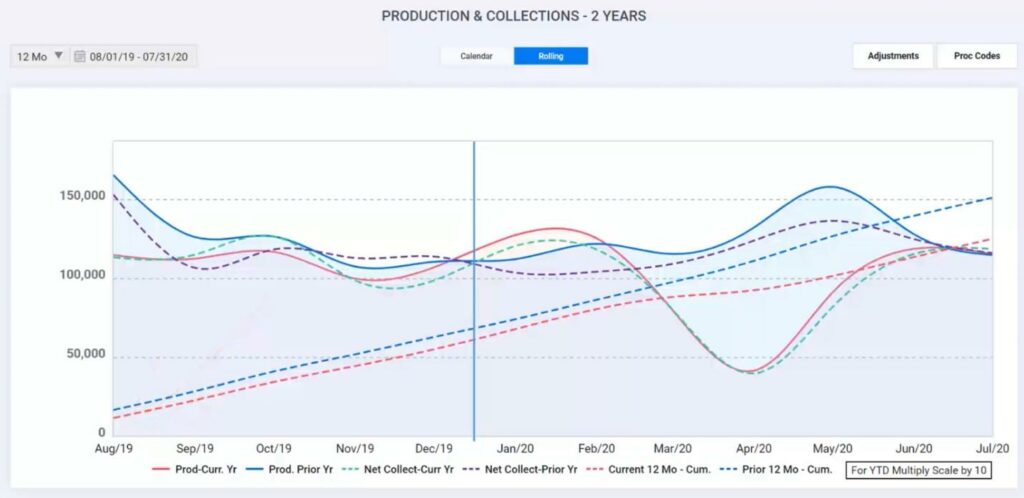 For those "data mongers," all data is presented in tabular form too.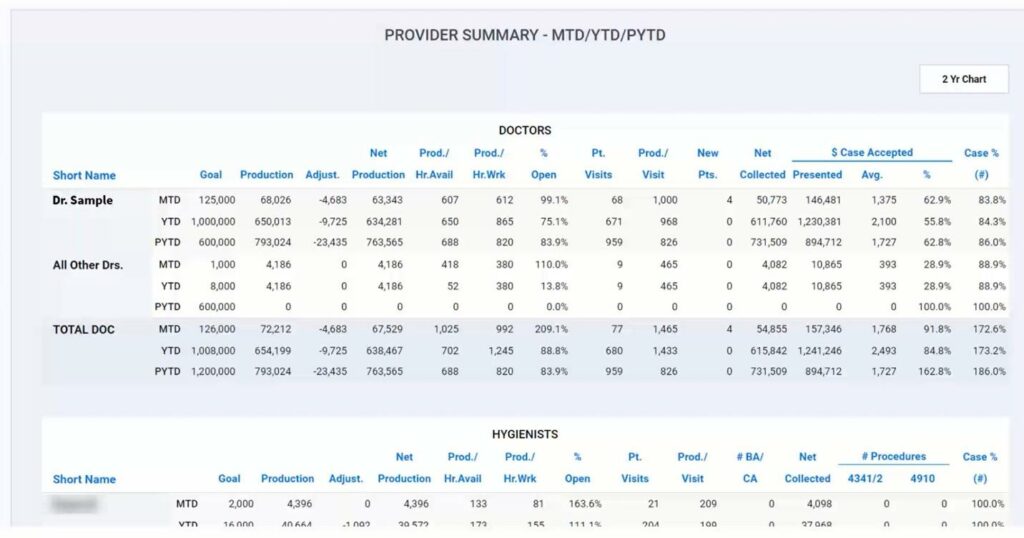 Your Analytics, Your Choice…
With our propriety platform, you get to choose how your data is accessed and how frequently it is updated. You can select monthly strategic analysis dashboard reports that can be downloaded, printed, and reviewed.  For those desiring all the "bells and whistles" combined with access on all your devices; PC, Mac, Tablets, and Smartphones, updated every 15 minutes, a cloud-based version is available too.
Let us help you discover your Revenue Opportunities and plug your Profit Leaks.
Remember, knowledge is not enough; you must Act!